School is back in session, and your busy super-woman schedule is back in full swing. Untwisting your hair while flipping flourless blueberry pancakes and wearing one heel is once again your normal. However, being all over the place is no excuse to look like a mess. I strongly believe that if you like the way you dressed, you will be more efficient in the workplace. Clothes strongly impact the way we feel, think, and how others perceive us. Whether you're running meetings as an entrepreneur or taking charge at your 9 to 5, looking fabulous is always in order. Here are 7 Fall outfits for the office that will command professionalism ~in great style.
PRINTED TROUSERS
Being a mother to a toddler whose tank is never (ever) "empty", pants are a major staple in my look. But, a life in jeans is no life for the modern woman. This look is one of my go-to outfits for a lazy day because it's pretty comfortable yet girly. Pair up a white, long-sleeved button-up and textured cropped sweater with loose fit printed trousers for a casual look in which you can discuss business.
SUIT UP
Nothing says, "I'm in charge" like a powerful suit. When coupled with a bold color, you have the power to enter any boardroom with a look that demands respect. Complete the entire ensemble with neutral toned heels and a girly blouse for a feminine yet powerful look.
DRESS UP
The idea is to look effortless on any given day of the week in the office. I love dresses, not only because they are one of the easiest things to don on a sluggish morning, but they also allow you to express your personality. Choose one in your favorite color. Solid or print. Then complete it with killer heels to look every inch of that professional, sexy and intelligent woman who people admire.
PLAID
It's plaid and simple. The secret to this look is adding uber feminine touches like the color pink, pearls oh and sparkle (in a very sophisticated way of course)!
BOLD COLORS
There's no better way to get through hump day than mixing and matching bold colors. Seriously. Scientists have found wearing brighter clothes makes you happier. Don't miss out on free health benefits and get the mixing! Be adventurous, but don't go crazy. Rule of thumb for the trend curious: stick with two patterns and simple silhouettes.
STAY NEUTRAL
Neutrals are a wardrobe staple. Simply because, they work year round, can be paired with every color imaginable and are the perfect wardrobe builder (you'd be amazed at how many different outfits a few neutral pieces can create).
MONOCHROMATIC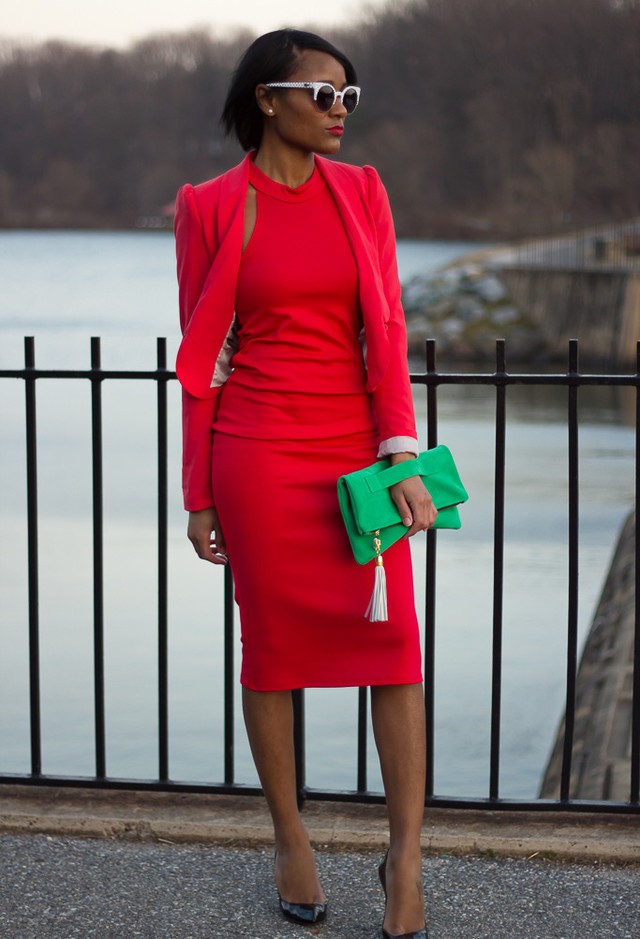 I absolutely adore monochromatic looks! While color blocking and mixing prints can look a bit fussy, wearing a single shade from head to toe is a simpler, cleaner approach to putting an outfit together. In fact, when you keep your overall outfit within the same color or hue, the effect can be just as striking as mixing prints.
What's your go-to outfit for the office? Which look are you looking to recreate this Fall? Let me know in the comment section below!