As the summer season shifts so does our wardrobe. With simple styling tips, you can take your favorite warm-weather pieces into fall.
Feminine and Masculine
Mix sturdy masculine-inspired pieces with your uber-girly ones because "anything they can do, we can do better!" Add a blazer over your favorite summer dress, stack up the accessories, and pair it with neutral tone ankle booties to take it into fall.
Fall Color in a Summer Print
Skinny Hipster's curator, Nifesimi stays true to her name in this quintessential summer to fall transition look. Wear this summer print in a jewel tone for a fun fall ensemble.
All Black Everything
You can never go wrong with an all black look. Especially when it's a sexy two-piece. Swap out the heels for metallic loafers and a printed trench coat for an ultra cool look.
Fringe to Perfection
Leave it to Olivia Palermo to show us how to rock one of the fall's biggest trends! Fringe is all the rage, and you can incorporate it in any of your favorite wardrobe essentials like shoes, clutches and well–skirts.
Midi Skirt
Cape Town fashion blogger, Laiqah Ally (Lucky Loves), shows us how a midi skirt can do double duty by pairing it with a casual tee and super cute heels. The olive hue is a nod to fall for which I've fallen.
Metallic Accents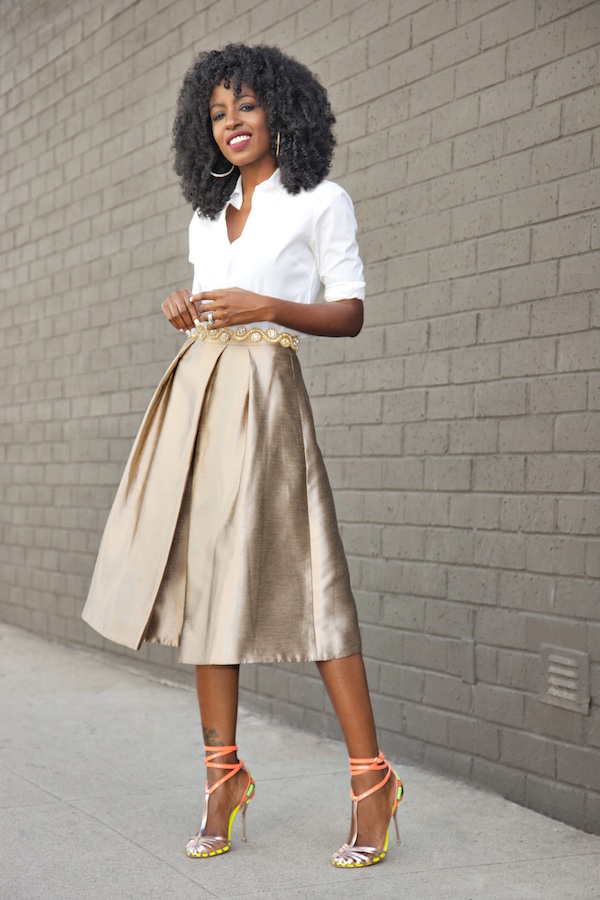 Metallics are no longer under a not-until-New-Years disclaimer anymore. Take this luxe-worthy staple into fall by layering it with a crisp button up or a cable knit sweater for a look that isn't overly complicated and ultra-stylish.
All White Everything
Freshen up your fall and break the "no white after Labor Day". White denim's inherently crisp, and choosing a distressed pair creates an interesting contrast. When it gets chilly, throw on a black trench for a forward and confident look. After all, it takes a brave woman to wear a tout blanc look without the fear of spilling espresso on herself.